The
Video Hotel Sezz
Saint Tropez enables you to discover the unique atmosphere of our hotel and get a taste of the unforgettable stay which awaits !
Video Hotel Sezz : the Hotel Sezz Saint Tropez as if you were there
Visiting your future holiday accommodation is the best way of judging the quality of the services and facilities on offer. If you don't have time to come and discover the Hotel Sezz Saint Tropez before booking your stay then the Hotel Sezz Saint Tropez will come to you with the Video Hotel Sezz !
The presentation video of the Hotel Sezz Saint Tropez will guide you through the corridors of our hotel, enabling you to tour the guestrooms, walk alongside the pool, admire the decor of the Colette restaurant or enter the Don Perignon bar without moving an inch !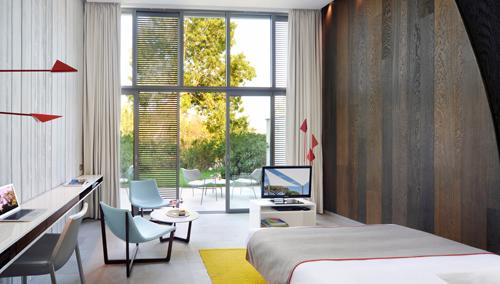 This visit takes you through the bright, spacious lobby of the Hotel Sezz Saint Tropez, with its soft, light tones, through to the intimacy of our guestrooms, which offer real independent accommodation with a private garden, pool and outdoor shower.
You can stroll around the large heated pool, near the comfortable sun loungers and its pool house, where tasty cocktails await. You will also have the pleasure of discovering our gastronomic restaurant with its Mediterranean flavours, and tour its splendid terrace in the shade of a century-old olive tree and magnificent palm trees.
View this design in the Video SEZZ Saint-Tropez
And for more videos of the Hotel Sezz Saint Tropez, go to the hotel's YouTube channel, where you can also discover all the latest on the festivities and events taking place in the famous Mediterranean resort.
Bring this dream setting to life by booking your stay at the Hotel Sezz Saint Tropez.
< return to posts