Tripadvisor certificate of excellence
celebrates excellence in hospitality. The 2013 ratings have been released, and both the
Hotel Sezz Paris
and the
Sezz Saint-Tropez
have achieved the highest of distinctions. Experience the luxury and elegance of our fine boutique hotels yourself by booking a relaxing stay at the Sezz in Paris or in Saint-Tropez.
Tripadvisor certificate of excellence given to top hotels
The Hotel Sezz Paris and the Hotel Sezz Saint-Tropez are delighted to have been recognized by the Tripadvisor awards. Tripadvisor® is the world's biggest travel site and a source of information for travellers from all over the globe. The awards are given to hotels which offer a high degree of excellence in customer service and which constantly receive outstanding reviews from real visitors.
Both hotels Sezz Paris and Sezz Saint-Tropez received a 2013 Certificate of Excellence. The Sezz Paris is ranked at number 179 out of almost 2000 hotels in the city, and 3rd with Spa. This is no mean feat when you consider the kind of competition in France's capital city, and has led to comments from guests such as 'beyond my expectations', 'excellent service' and 'beautiful'. Guests invariably remark on the exceptional care given to them by staff, and the remarkable level of extra attention they have received.
The Sezz Saint-Tropez was ranked an amazing 2nd out of the 75 hotels in Saint-Tropez. Considered as one of the finest 5 star hotels in the south of France, a guest remarked that though they were not used to staying in establishments of this level, the friendliness and kindness of the staff soon had them feeling perfectly at ease. Another guest says it all 'See the site and book right away!'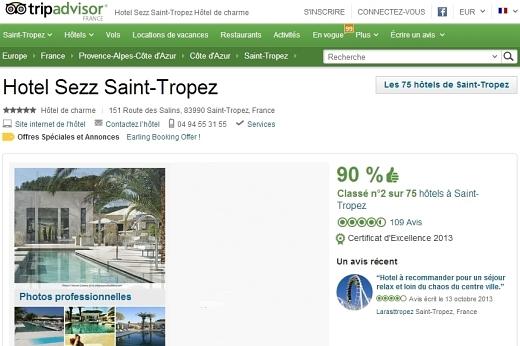 Sezz Hotel : Paris & Saint-Tropez, see why the Tripadvisor certificate of excellence is so well deserved
Book a stay at Sezz Hotel in Paris or Saint-Tropez to enjoy the magical atmosphere and incredible level of service for yourself. The Hotel Sezz Paris enjoys a fabulous location close to the Eiffel Tower. Just minutes from the beach, the Sezz Saint-Tropez offers guests their own cocoon villas with private garden and outdoor shower. At both locations, our friendly staff will be delighted to welcome you for a memorable break at Hotel Sezz. Your satisfaction is our priority!
~oOo~
< return to posts