The
Sezz Duck
is the cute mascot that we give to each guest as they arrive at the elegant
Hotel Sezz
, Paris or at the glamorous Hotel Sezz St. Tropez. Guests then post photos of their Sezz Duck on Instagram, creating a continuous library of the little guy's adventures near and far. Book a stay at Hotel Sezz to receive your own Sezz Duck and join in the fun.
The Sezz Duck is a great way to remember your stay and have a little fun
While the Sezz Duck may not have reached the level of international fame that he clearly desires, you can help him to get there. Book a stay with us at Hotel Sezz, Paris to experience the many attractions of the city of light, such as gourmet dining, world class shopping, and top events. When you arrive, not only will you receive a welcome drink, you'll also be given your very own Sezz Duck.
Take your Sezz Duck out with you to capture him in different settings and unusual situations. Perhaps he'll enjoy sitting on the steps at the Butte Montmartre, or maybe you can catch him chatting over coffee in Saint-Germain-des-Prés. Take the most elegant companion in town to the famous Moulin Rouge, or to a top show - the choices are endless.
In Paris there are lots of out of the way places to visit and amazing things to do. Take a photo of the most imaginative as a wonderful record of your time with us, and to add to the growing library of the adventures of the Sezz Duck in Instagram hotel's webpage.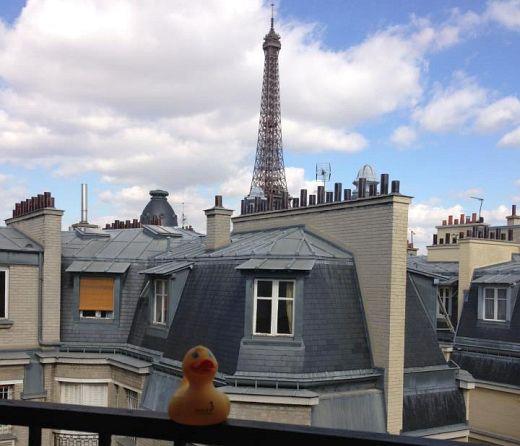 The Hotel Sezz is the only place in Paris to meet the famous Sezz Duck
Hotel Sezz is a stylish and friendly boutique hotel in one of the most elegant districts of Paris. Just a few minutes by taxi or metro from many popular attractions, rooms and suites are serene and beautifully furnished. Enjoy a drink in our bar La Grande Dame or chill out in the Spa Sezz by Payot. Our friendly staff are always ready to help, and happy to take a photo of you and your Sezz Duck !
~oOo~
Join in the  "Sezz Duck" adventure, and share your photos via #hotelsezz on social networks!
< return to posts