Here at the
Hotel Sezz
we consider ourselves blessed to be situated in an area of such exquisite loveliness as the
Gulf of Saint-Tropez
. Enclosed by the tree crowned slopes of the Maures Massif, the gulf has even more to offer the visitor than just the town for which it is named, wonderful and exciting as Saint-Tropez is. No, there is yet more for you to discover if you take the time to explore the region and its charming villages and verdant countryside.
The tranquil villages of the Gulf of Saint-Tropez
Warm azure waters lapping gently at fabulous beaches. A rich and fertile land where vineyards abound. The Saint-Tropez peninsula with hilltop villages dreaming beneath the Mediterranean sun. Quiet forests of ash, oak and pine trees, their leaves nodding lazily in the gently caressing breeze. Picturesque ports where boats bob lazily on the swell. Such descriptions only begin to convey the essence of this piece of paradise called the Gulf of Saint-Tropez.
Here is situated the medieval village of Grimaud, whose 11th century castle commands a spectacular view of the gulf, whose Saint-Michel church is the oldest in the area and where quiet houses prettily painted in the pastel shades of the Mediterranean line narrow, winding streets. Here also is Ramatuelle, whose ancient houses with rooftops of pink tiles are protected by defensive ramparts, a legacy of the distant past and where you can find, close by, the world famous Pampelonne Beach, perhaps the finest in Europe.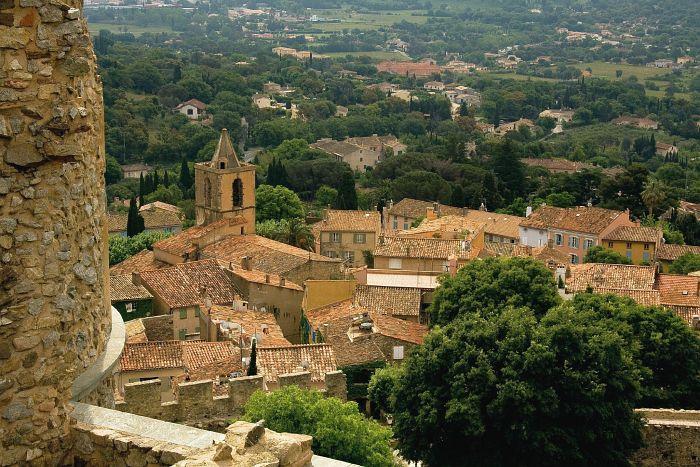 Gulf of Saint-Tropez - Grimaud Village - flickr - Photographer Risastla
Then there is Saint-Maxime, like a fabulous balcony overlooking the blue waters. The cobbled streets and flower bedecked squares of Cogolin, a showcase for arts and crafts. The picture postcard perfect beauty of Gassin, and its heritage of viticulture. A little way inland and all but submerged in lush greenery lies La Mole, awaiting the visitor unafraid of straying from the beaten path.
There are other villages, besides, all of which wait to enchant you with their loveliness and cast a spell about your soul.
A Short History of Saint-Tropez
Saint-Tropez was rebuilt by Genoese lords after its destruction by royal squabbling in the 14th century. However, it remained a quiet fishing port until the coming of the railway brought a trickle of visitors that became a flood as artists and writers responded to its picturesque charm, exquisite light and tranquility. By the mid-20th century the town had acquired a reputation as a haunt of celebrities but it was the filming of 'And God Created Woman' with the sensational Brigitte Bardot that consolidated the reputation of Saint-Tropez as a fashionable resort for the Beautiful People. Bardot still lives in the area, she loves it so much.
~oOo~
< return to posts