Social networks
, two words offering a host of opportunities! From the famous Facebook to the select A Small World, the
Hotel Sezz
is present on all the main sites, enabling you to keep in touch with your favourite hotel as well as share news and ideas for the best places to stay, eat and visit.
Social networks , the Hotel Sezz version 2.0
You can of course find the Hotel Sezz on the world's most popular social networks, Facebook, where almost 2000 fans have already joined our page. Regularly updated, it is brimming with cultural, gastronomic or artistic recommendations for your next stay in Paris, as well as news on the Hotel Sezz. Special offers, events, competitions: all the latest information is available at a glance.
You can also find a 'condensed' version of this information on Twitter, where our followers are kept up to date in real time on the capital's unmissable events, shows, promotions and exhibitions. If you have not yet booked your room, some of our tweets will certainly make you want to come and check out our tips and suggestions for yourself!
Hotel Sezz as well in videos, pictures or on geographical positioning website
The Hotel Sezz also has its own channel on YouTube, where you can view films presenting the hotel, its services and its decor, as well as the most famous tourist sites in the vicinity. We are also on Foursquare, the geolocation tool, Pinterest, the image pinboard, A Small World and Google+, where the Hotel Sezz Paris and Hotel Sezz Saint Tropez each have their own interface and share news, informations and ideas.
While you wait to stay in one of our 2 hotels, in Paris or Saint-Tropez, stay connected to the Hotel Sezz via your favourite of the various social networks: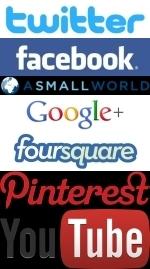 ---
< return to posts