On October 5th the
Hotel Sezz Saint Tropez
will bring another remarkable season to an end, and close its doors until next spring. It has already been an
amazing 5 years
since the Sezz Saint Tropez opened, and the hotel continues to enchant discerning holidaymakers who demand upscale accommodation and a high standard of personal service. As evidenced by the growing number of clients who return year after year, the Sezz has inspired an unwavering loyalty from its regulars from the start. In keeping with Riviera style, the unique design of Hotel Sezz Saint Tropez fits beautifully with the tradition of elegance and glamour that the famous Var village is known for.
An inspired design and a beautiful setting
Creator and director of Hotel Sezz,
Shahé Kalaidjian
and former
Philippe Starck
associate and acclaimed French designer Christophe Pillet are a formidable team. Together, they have designed a unique boutique hotel that embraces its natural environment and is decidedly minimalist and monochrome in character, yet unerringly comfortable and luxurious in manner. Soft curves and fresh, natural spaces are complemented by furnishings and fittings in noble yet discreet materials. The peaceful tranquility and ambience is hardly disturbed by the soft splash of the swimming pool and the murmur of cicadas, and you will enjoy an incredible feeling of comfort and well-being that is enhanced by clean lines and elegant spaces. The hotel is surrounded by magical Provencal gardens and outdoor areas designed by
Christophe Ponceau
. Palm and olive trees, fragrant lavender and pine allow nature to be persuasive without being intrusive, and magical grounds complement the clean modern lines of the hotel and set the stage for a memorable stay.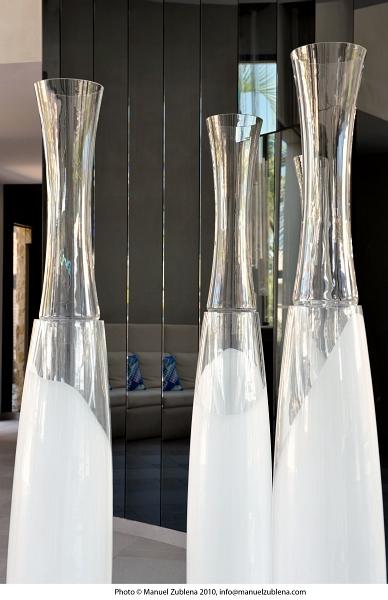 Christophe Pillet vases
A relaxing atmosphere and a great location
The Sezz Saint Tropez enjoys a great location just a few minutes from the Canoubiers and Salin beaches. Our heated pool is the perfect place to swim or relax, while our exclusive
spa by Payot
features a Jacuzzi and steam room and offers a range of pampering treatments. To delight your palate, enjoy a lunch or dinner of fine cuisine with regional accents in Restaurant Colette, or sip a glass of champagne at any time of day in our chic, comfortable Dom Perignon bar. Hotel Sezz Saint Tropez offers a personalised experience where
high end service
and attention to detail are paramount. As this wonderful 5th season comes to a close, we'd like to take the opportunity to thank every guest who has honoured us with their presence this year. Your loyalty is our finest reward, and we look forward very much to seeing you in spring 2015 for the start of a thrilling 6th season at Hotel Sezz.
~oOo~
< return to posts