The lovely village of
Saint-Tropez
displays its many charms throughout every season of the year. During the winter holiday season, the end of the year in 'St-Trop' combines Provencal traditions with the friendly and festive atmosphere of the French Riviera. From the old village with its crooked alleys to the sandbar end of Pampelonne Beach, Saint Tropez dons its festive costume for a colourful Christmas and New Year.
A magical atmosphere for the whole family
From the beginning of December, Saint-Tropez offers a variety of end of year festivities to please young and old. While lights and decorations adorn the entire village, showcasing the architecture of the Citadel as well as the charming fishing houses, the village comes to life. The ice rink opens its doors to skaters from the French international team on 23 December, and is a wonderful festive spectacle. Gourmands won't be outdone, and may rush to the Chocolate Fair from 20 to 22 of December. As always, the great fire and spectacular New Year fireworks amaze young and old on 31 December.
Provençal delights and spirit of Christmas in Saint-Tropez
As is the tradition in Saint-Tropez, Father Christmas arrives by sea on his fantastic sleigh. Santa brings in all the enchantment of Christmas when he lands at the Old Port in the late afternoon, and is sure to leave his little basket full of surprises. The wait for the evening of the nativity is exciting and eagerly anticipated, and its arrival is marked with traditional Provencal songs.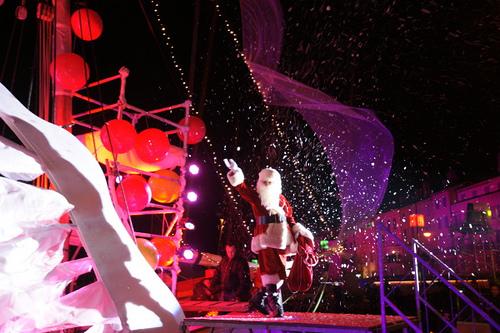 Christmas 2011 in Saint-Tropez - Tourist Office - Jean-Louis Chaix
Saint Tropez is full of good restaurants, ranging from family inns to gastronomic institutions that will delight your taste buds with regional specialties like nougat, bread and other local fayre.
Figurines of yesterday and today
Did you know that the first crib figurines representing the Nativity appeared in Marseille? The long tradition of figurines in Provence dates from the Middle Ages, and these small clay figurines are now an important part of Christmas celebrations. True to its spirit, Saint-Tropez gives this Provencal tradition a truly international slant, as many traders in the village feature festive windows with scenes from around the world.
Merry Christmas!
******
Christmas in Saint-Tropez,
the events
Tourist Office Saint-Tropez Bureau d'Accueil Quai Jean Jaurès Tel. 0033 892 68 48 28
~oOo~
~oOo~
Featured picture copyright holder: Tourist Office Saint-Tropez - Photographer Jean-Louis Chaix
< return to posts