For its fifth season we are happy to start with you, the
Sezz Saint-Tropez
installs chairs, cushions and umbrellas on the terrace by the heated pool… Holidays can begin! Relax and enjoy. You are in Saint-Tropez with its fabulous beaches and its glittering nightlife.
Partying in Saint Tropez
has attained legendary status. The town's name is a byword for glamour, sophistication and fun. The sizzling scene begins at the beach clubs of the Plage de Pampelonne and continues via bars, restaurants and nightclubs until the first light of dawn. The choice can be overwhelming, so here are some tips from the Hotel Sezz.
Vibrant and exciting, the St Tropez Party Scene
Relax by the sea. Located at the heart of Pampelonne Bay, the beach of Nioulargo is favoured by both gentle currents and international stars. Bagatelle Beach and Tahiti Beach are also languid and elegant places to soak up the sun and relax.
When the siren call of fine food summons you to leave the sand, sea and sunshine, then L'Opéra is a place where you will find fulfillment. With its 40s retro feel, beautiful terrace commanding delightful views of the port, and a French and international menu, this is an essential restaurant. Relaxed, but with a party atmosphere coming on strong as night falls, La Brasserie des Arts may be to your fancy. Villa Romana has an Italian Renaissance vibe, and Le Grand is ideal for some serious foodie dining.
Then it's time to hit the bars. For fine French and Asian cuisine, plus great live music, cabaret and world class DJs, Le Quai is hard to beat. However, if your tastes run to chic modern décor with a light show then Le Bar du Port may be more your scene. Of course, connoisseurs of fine champagne are advised to go no further than Le Bar by Dom Pérignon, right here at the Hotel Sezz.
Then it's on to spending the rest of the evening clubbing. Les Caves du Roy may be the most famous nightclub in the country and is known as the Saint Tropez crown jewel of disco. At the VIP Room you can mingle with some of the most famous guests in the world, and this club also features regular art exhibitions, which puts us in mind of a special upcoming event at the Hotel Sezz.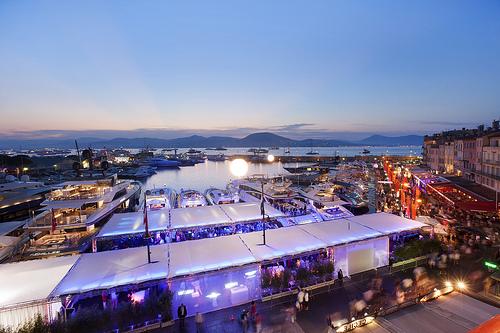 Festivities on Saint-Tropez embankment - Saint-Tropez Tourisme - Photographer Zoé de Saint-Tropez
Contemporary Art in the Gulf of Saint Tropez
As part of the Galerie Saint Laurent exhibition of contemporary art in the Gulf of Saint Tropez region, the Hotel Sezz Saint Tropez is delighted to present the work of the Hungarian born artist Attila Rath Geber. The creativity of ten artists is being exhibited in five locations in the area from July 4th to August 24th. Shahé Kalaidjian, owner and Director of the Sezz hotels, holds contemporary art close to his heart, and wishes to share this passion by offering his hotel as a temporary gallery hosting Geber's challengingly inspirational, yet wonderfully uplifting, sculptural creations.
~oOo~
< return to posts