Whether you're big or small, the romantic type or worldly and blasé, it's difficult not to succumb to the magic of Christmas! As night falls early and the beaches take on their winter colours, Saint-Tropez trades the bright sunshine of summer for glittering Christmas ornaments and thousands of lights and garlands in brilliant icy white.
Under the spell of winter
It is a rare face of St. Tropez that we see emerging over the winter holiday season. Wooden chalets, sprigs of holly, snowy pinecones, waffles and mulled wine replace the deckchairs, pistachio cones and tropical cocktails that are intrinsically linked to summer. A large ice rink is installed at Place des Lice where you can skate under a starry sky that is illuminated with the silvery sheen of giant garlands. Goshawks, figurines, hats, jewellery, gingerbread and chocolate pancakes adorn the windows of the chalets and delight everyone who passes by.
So many attractions at Christmas!
It's a pleasure to stroll in the Old Port with its tiny cobbled streets and decorated windows but the city has also organised a host of exciting events. The city library will present games and toys for children and the curious will find Christmas events in every corner of the town with a daily programme of plays, ballets and film screenings. The intrepid can try a spot of ice climbing and gourmets won't be able to resist the Chocolate Show. Finally, on December 24th everyone will make their way to the port to watch Santa Claus arrive by sea. As his beautiful wooden boat glides over the Mediterranean and into the port, Santa Claus lets go of the reins and embarks to hand out a thousand brightly coloured packages to the children of St. Tropez.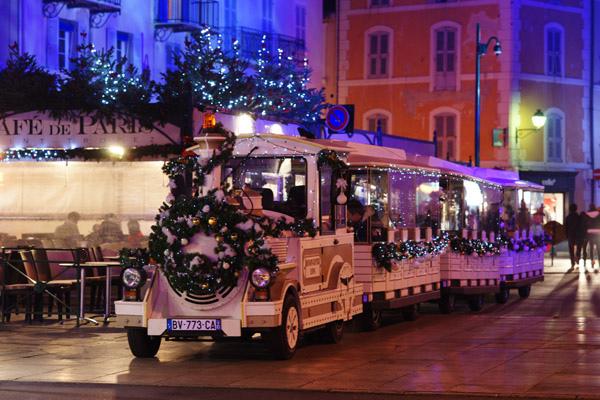 As 2015 draws to a close
And, to close the year on a happy note, the village of Saint-Tropez will present a lavish firework display on December 31st. Enjoy this spectacular show from the Mole Jean-Reveille as the stroke of midnight announces the arrival of 2016 and a wonderful new year filled with promise and possibility begins.
******
Photo Credit : Zoé de Saint-Tropez et Idscènes
---
Sezz Saint Tropez, a luxury 5 star design hotel in Saint Tropez
< return to posts