Luxury hotel suites Saint Tropez
in the elegant
Hotel Sezz
present you with the opportunity to experience a new way of vacationing, where every aspect of your stay is a perfect blend of luxury, serenity and comfort. Choose our Cocoon Plunges or Villas for the dream holiday of a lifetime in glittering Saint Tropez, one of the world's most glamorous destinations.
Luxury hotel suites Saint Tropez to enjoy an unforgettable break in a glorious setting
From the moment you arrive at Hotel Sezz Saint Tropez, you will step into a different world where our Personal Assistants welcome you into our remarkable 5 star boutique hotel, which décor is signed by Christophe Pillet.
The beautifully designed Cocoon Plunges are your personal oasis of calm. The 40m² rooms have a double bed and you may also reserve communicating cocoon rooms, should you wish. Our sumptuous 90m² Villas have two bedrooms, one with king size bed and one with a queen size bed, each with bath and shower. The large lounge is furnished with chic contemporary pieces, with a delicious fifties retro feel.
All Cocoon Plunges and Villas have their own private garden with deck chairs, small pool and an outdoor shower for a refreshing start or end to your day. The services are equally upscale. Air conditioning, LED flat screen TV and satellite channels, CD/DVD player and hire, iPod base and speaker, WiFi, Nespresso coffee machine, Sezz Saint-Tropez candle specially designed by Francis Kurkjian... every detail has been considered for your well-being and high level of comfort.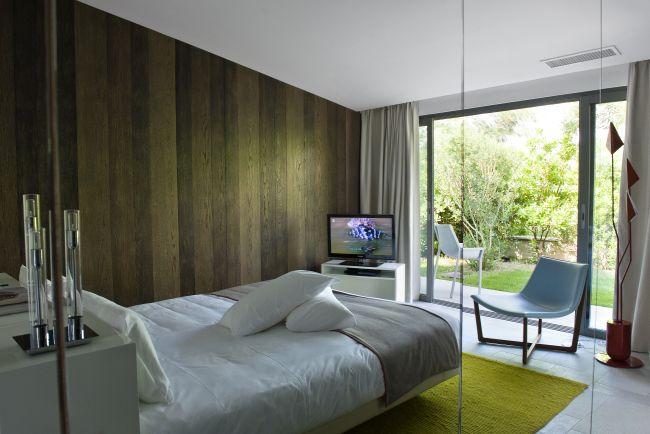 Hotel Sezz Saint Tropez : the ultimate in Luxury Hotel Suites Saint Tropez
Hotel Sezz Saint Tropez is set in its own verdant, plant filled grounds just 1km from the centre of Saint Tropez, and 5km from the famous Pampelonne beaches.
Revel in the elegant and sensual ambience of our hotel as you relax with a chilled glass of champagne in our Dom Perignon champagne bar, or sip a cocktail by the heated swimming pool. Our multilingual staff will be happy to fulfil any request you may have during your stay at Hotel Sezz Saint Tropez.
< return to posts