Luxury hotel Saint Tropez
captures the magic of its natural environment with magical and inviting gardens designed by Christophe Ponceau. Enjoy the wonder and beauty of the gardens with a stay at
Hotel Sezz
, a corner of paradise on the glamorous Côte d'Azur.
Luxury hotel Saint Tropez invites you to experience outstanding natural gardens
Hotel Sezz was created with a view to providing a tranquil Zen like atmosphere in the heart of Saint Tropez. The hotel's owner Shahé Kalaidjian engaged acclaimed landscape designer Christophe Ponceau to create gardens in keeping with the ambience of the hotel, and you will enjoy discovering each tiny detail during your stay.
An interior design graduate from the prestigious Ecole Boulle, Christophe Ponceau went on to gain a degree in architecture. He discovered that he had a great passion for landscape garden design and worked closely with Gilles Clément on many successful projects. Now in partnership with Melanie Drevet, Christophe Ponceau was an inspired choice for Hotel Sezz.
Shahé Kalaidjian has removed barriers between staff and guests, and this tradition is upheld in the garden. Plants organise shape, and are given freedom to grow naturally with no enclosed spaces or boundaries. As you arrive at the hotel, you will be entranced by the heady scent of the tall eucalyptus, while underfoot fine yellow meadow grasses are strewn with elaeagnus and evoke the sensation that you are on the threshold of an amazing garden. The pool is the centrepiece of the hotel, and a line of stately palm trees create a play of shadow and light on the shimmering surface of the water.
Each room has its own garden with a lawn surrounded by hedging shrubs to ensure your privacy. Mimosa, exotic foliage and wild roses provide colourful notes, and Christophe has succeeded in creating a beautiful Provencal garden that fully expresses the beauty of its surroundings.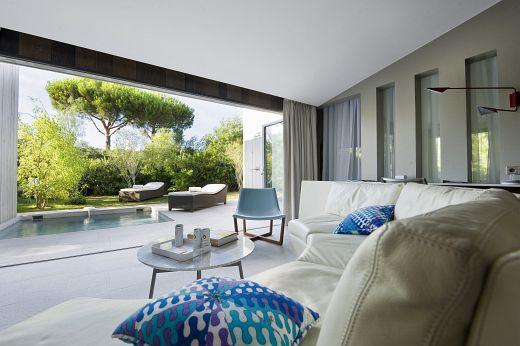 Hotel Sezz - an exceptional luxury hotel in Saint Tropez
Hotel Sezz is a haven of sophisticated elegance, just 5km from the heart of Saint Tropez. The hotel has been beautifully designed and furnished by Christophe Pillet throughout, and complements the gardens perfectly. Enjoy a meal in our gastronomic Restaurant Colette, relax by our incomparable heated pool, or simply stroll in the magical gardens. Our helpful staffs are available to assist with any detail that might make your stay at Hotel Sezz even more special.
Christophe Ponceau : Rue du Repos, 14 Rue du Repos - 75020 Paris
~oOo~
< return to posts