No one can deny it: summer is definitely here. The sun beams down on the beaches of the Gulf of Saint-Tropez and its colourful flowers and striped deckchairs. Spend evenings by the pool of the Sezz Saint Tropez, sip a cool cocktail and delight your palate with a delicious grill while our DJ Sébastien creates the perfect musical atmosphere.
La dolce vita
In addition to its delicious seasonal menu, our restaurant Colette offers mouth-watering dishes that are grilled "as in salta" over a wood fire each evening. Barbecues are organised on the restaurant's terrace, and as night falls and the sound of the cicadas fades, the eye catching glow of the embers, and the irresistible fragranced of perfectly grilled meat is a delicious complement to the sweet coolness of the coming night that is sure to entice the most jaded palate. The time has come to treat yourself. Tables, chairs, armchairs, deckchairs are available for light snacks or gourmet meals. Of course, you may prefer to venture into our basement bar Sezz by Dom Perignon to raise a glass or two of chilled vintage champagne.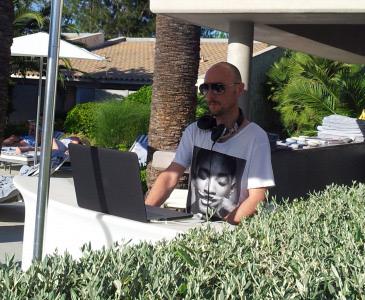 Music!
In this laid back, festive atmosphere, our DJ Sebastian takes to the turntables to accompany you over drinks or dinner on those warm Saint Tropez evenings. Just for you, he creates an ambient lounge atmosphere from 17.00 to 22.00 each evening that is often juxtaposed with surprising notes that in turn enchant or turn your head to romance as the sun sets. As the night grows darker and the fairy lights that line the pool sparkle in time with the stars twinkling overheard, prepare for a night that sings, dances, vibrates with the fragrance of a summer that always begins beautifully in Saint-Tropez!
******
---
Sezz Saint Tropez, a luxury 5 star design hotel in Saint Tropez
< return to posts