The unique Sezz brand is a prominent presence on social networks, offering high quality and personalised services to satisfy the requirements of all our clientele, whether tourist or business. Facebook, Google +, Twitter and Instagram are all buzzing with the daily news and services offered by the Sezz Hotel.
A strong presence and satisfied users on social networks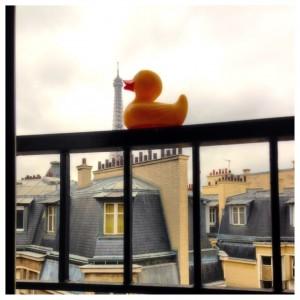 The Sezz Hotels offer you the opportunity to discover their unique universe via social networks. In a world brimming with new technology, we are delighted to be active on several social networking sites, where our special character and ambience is captured and conveyed worldwide, and where our followers can learn about all the many services and benefits we offer throughout the year. You will also discover the Sezz Duck, the lovable mascot of the Sezz brand. Offered upon arrival to our guests, he delights the little ones the most, but is great fun for everyone. This little duck enjoys plenty of exposure on the social networks, thanks to his many friends. We're just waiting for him to go viral! Why not join in the fun by posting your own photos with this charming companion in various locations.
Personalised services
Each month, the Sezz Hotels offer a 360 ° panoramic vision of the many services we offer to our customers. Gourmets and gourmands will be delighted by the publication of many photos of the superb cuisine available at the Colette restaurant of the Hotel Sezz St. Tropez. Lovers of Paris and its wonders can have their wanderlust sparked by shots of the city and the neighbourhood, as published by the Hotel Sezz Paris.
Join the Sezz community, stay informed of all the news of the brand, and make your future stay a succession of unforgettable moments!
Follow the Hotel Sezz Paris
Follow the Hotel Sezz Saint-Tropez
< return to posts