The
history of Saint Tropez
may be regarded by many as a relatively recent thing, as the town only came to the attention of the wider world in the 20th century. Now internationally famous as a jet set destination on the French Riviera and one of the world's great resorts, this town in the Provence-Alpes-Côte d'Azur region of southwestern France can actually trace its story back over 2,000 years.
The tumultuous times of Saint Tropez
Although this part of the coast is known to have been inhabited by various prehistoric tribes, there is little evidence of a settlement until the coming of the Greeks and later the Romans. The town was known variously as Athenopolis and Heraclea Caccabaris, and only acquired the name by which it is known today in AD 68 due to a rather grisly incident. In Pisa, Italy, one of the Roman emperor Nero's centurions, a man called
Torpès
, was beheaded for refusing to renounce his religion. In a show of cruel disdain his body was cast by his slayers into an open boat, accompanied by a dog and a cockerel to devour his remains, and cast adrift. The boat fetched up in the vicinity of Heraclea Caccabaris with the man's body miraculously still uneaten. This inspired the villagers to adopt him as their patron saint.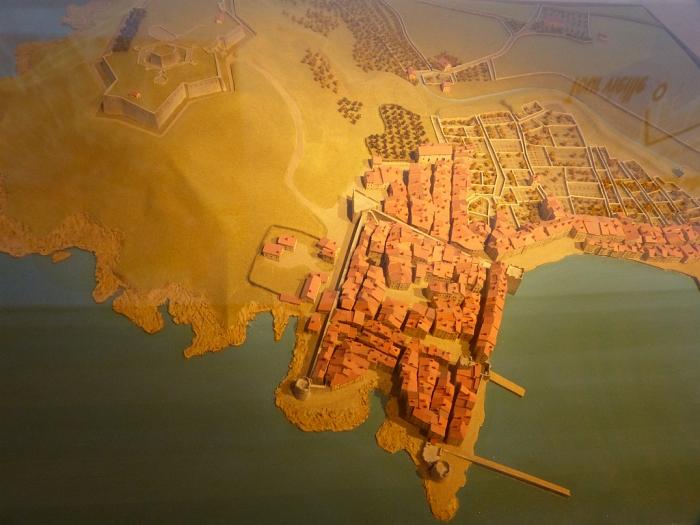 Citadelle Museum - Old town map After the fall of the Roman Empire,
Saint-Tropez
suffered the depredations of pirates, and by the 10th century had fallen into Saracen hands. Recapture by the Christians followed and by the 11th century the town was a priory of St Victor and would come to be ruled by the viscounts of Marseilles, the Suffrens and the Castellanes. However, disaster was to follow when Saint Tropez was completely destroyed. How and why this occurred and what happened next will be the subject of next month's blog. But first, to help you recover from all that mayhem, we have a suggestion…
Spa Sezz By Payot: total relaxation amidst elegance
There is an ideal way to revive and re-energise your body and senses, bring sharpness and clarity to your mind and harmonise the balance between body and soul. Spa Sezz by Payot offers individually tailored spa treatments to revivify, amidst a tranquil and beautifully designed setting. Our expert therapists use the approach pioneered by Dr
Nadia Payot
, the pioneering skin and beauty care specialist. The Payot 42 movement model is combined with the excellent Payot Institute skin care products to produce a holistic method of treatment guaranteed to produce a profound sense of well-being.
~oOo~
Pictures copyright holder : Tourist Office Saint-Tropez - Photographer Zoé de Saint-Tropez
< return to posts