Golf practice Saint Tropez
is your chance to hone your golf and polo skills at several top courses and clubs in Saint Tropez. Your stay at
Hotel Sezz
affords you the opportunity to enjoy these prestigious sports in some of the most beautiful settings in the South of France.
Golf practice Saint Tropez - An enthusiasts dream
Whether you're a beginner or an advanced player, the chance to enhance your skills on world class courses in the sun drenched French Riviera setting of Saint Tropez is a tempting diversion from the bustle of everyday life. Improve your swing at courses like Golf Club Saint Tropez, just 5 minutes from the port and Pampelonne beach area. The 18-hole course at Gassin was designed in association with Gary Player and offers areas of varied technical difficulty amid fabulous views.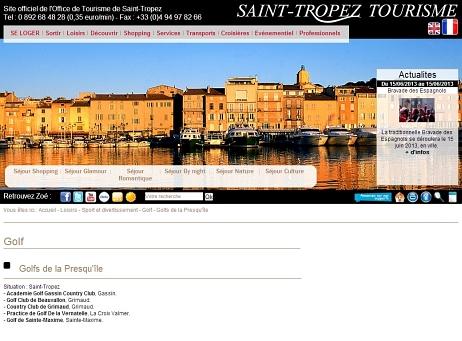 Golf Club de Beauvallon at nearby Grimaud is another treat for golfers. 18-holes on verdant lawns and rolling tree studded slopes present an ideal location for this game of skill and concentration and an exciting chance for you to play on another world class course.
Thanks to the exclusive package of the Hotel Sezz, our guests can also polish up their polo with a one to one session with a top professional player at Polo Club Saint Tropez at Gassin. You can combine golf practice and polo for a dream break, and also take part in the thrilling 15th Anniversary Tournament of Polo Club Saint Tropez, just one of many exciting events which take place throughout the season.
Hotel Sezz is uniquely placed for a Golf practice Saint Tropez Break
Stylish Hotel Sezz is the perfect choice for a golf and polo practice break. Not only can guests avail themselves of our exclusive Polo Package, our beautiful Cocoon rooms with private garden provide a haven to relax and unwind after an energetic day of golf or polo. Ease away aches in Spa Sezz by Payot, or enjoy a celebratory drink in our Dom Pérignon champagne bar!
Up-coming Golf and Polo events in St-Tropez:
Golf :
>> Les
Drives de Saint-Tropez
, 5th Saint-Tropez Ladies' Amateur, June 13-15, 2013
Polo :
>> Var Tournament : June 14-23 >> International Polo Cup Saint-Tropez 2013, July 4-14, with parade on the port on 12th July >> 2013 Saint-Tropez High Open tournament, August 8-25
< return to posts