Feast in St Tropez 2014
is a colourful celebration of the town's history and tradition. Be a part of the exciting Bravades Saint-Tropez parade which is held each year on May 16th, 17th and 18th by booking your stay at the glorious
Hotel Sezz
.
Feast in St Tropez 2014 is an opportunity for the whole family to enjoy an historic tradition
The three day Bravades-Saint Tropez festival commemorates the bravery of Saint Tropez who publicly defied the Roman Emperor Nero by refusing to give up his Christian faith.
The festival is also a military celebration and marks the appointment of a Captain to the town of St Tropez in the 16th century. The captain schooled the townspeople in weapons and they were able to protect the city from the Saracens.
The spectacular Petites Bravades parade starts the festivities on May 16thas four Pisan cross bearers lead a procession through the streets. The Grande Bravades on day two is a musical parade that has not altered in 450 years. Follow as the Captain leads the procession in period costume and the mayor hands over a flag and pike. Children will love seeing the musketeers in action, and everyone will enjoy the fabulous public dance at the end of the day.
Put on your favourite red and white outfit and join in the fun over three days of parades, celebrations, grand balls, picnics, music and feasting for Bravades Saint-Tropez. The festival culminates on May 18th when a celebratory glass of wine is raised by all.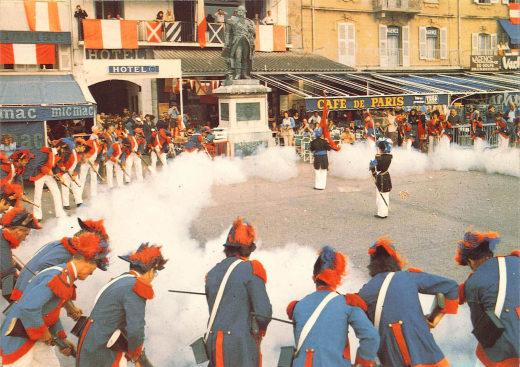 Feast in St Tropez 2014 with the Bravades - Action - © Bravade's association
Hotel Sezz is the perfect base from which to join in the feast in St Tropez 2014
The elegant atmosphere of Hotel Sezz is relaxing at the end of fun filled days. Our chic rooms and suites are cool and soothing, and you'll enjoy exceptional facilities such as refreshing rainfall showers and your own private garden. Our heated pool is the perfect spot to enjoy a cool drink, and our helpful Personal Assistants are on hand for any requests you may have.
< return to posts