Just a few steps. That's the distance to the azure waters of the Mediterranean when you decide to stay at
Sezz Saint Tropez
, a luxurious five-star hotel located just one kilometre from the city centre. Enjoy the hotel's many amenities in an elegant and refined atmosphere; restaurant, spa, Jacuzzi, steam room and a fabulous heated outdoor swimming pool. Of course, an exceptional break like this just wouldn't be complete without a few glasses of Dome Perignon champagne, the world's most exquisite drink. Alternatively, why not let yourself be surprised by one of our delicious cocktails, expertly prepared by out skill bartender at the
Dom Perignon Bar
?
An invitation to relax under the Mediterranean sun
Everything at Sezz Saint-Tropez has been designed to bring you a high level of comfort and make your stay in southern France unforgettable. Upon arrival, you delve into an atmosphere where time stands still. Let yourself be carried away by the sweet scent of oleander, mimosa, pine trees and typical Provencal trees and plants. Beautiful landscaped gardens surround each Bungalow, Cocoon or Villa and our large swimming pool, which is the perfect spot to relax during the day. Lounge on one of the comfortable plush chairs by the poolside with an exciting book in one hand and a refreshing glass of your favourite drink in the other.
Bar Dom Perignon , a friendly atmosphere and festive at any time
Our Dom Perignon Bar offers a wide selection of drinks and tantalising cocktails with names that are reminiscent of a magical escape. Fever Tree Tonic sparkles with the characteristic taste of quinine, while the Tiki Wave blends rum with exotic juices. The Fizzy Colette is a light floral drink flavoured with wormwood, pastis Henri Bardouin, spices and aromatic herbs, and beer lovers will enjoy sampling Etxeko Bob's an exceptional craft beer from the Basque country. If you prefer to celebrate in inimitable Sezz style, a glass of one of the prestigious Dom Perignon cuvees can be enjoyed at any time of the day or night.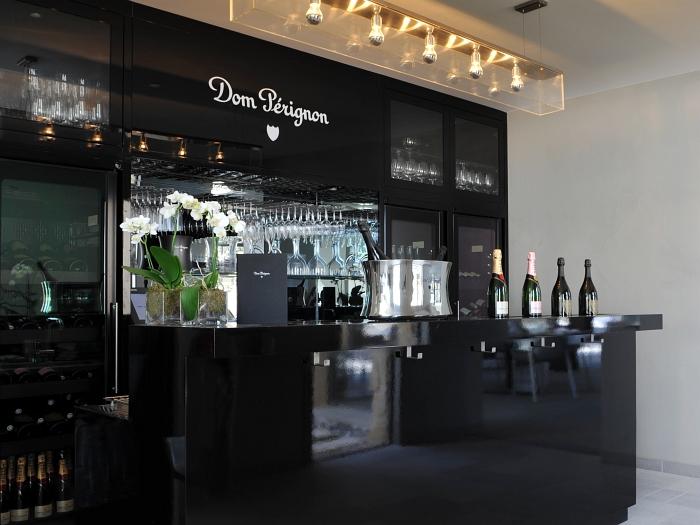 Hotel Sezz Saint Tropez - Bar Dom Perignon
The Sezz is also the perfect party location. Ideal for after work or after beach entertainment, the elegant and friendly atmosphere of our lounge bar is the perfect setting for an aperitif and the best possible way to start your evening. Relax by the light of candles and soft lamps after a delicious dinner in our restaurant Colette, and take pleasure in delicately fragranced and beautifully designed surroundings.
Dance fans – let DJ Alan ignite your nights every weekend during the months of June and September and each evening throughout July and August. Refresh yourself between setting the dancefloor alight and slow languorous dances with a wide selection of alcoholic and non-alcoholic drinks served at our Dom Pérignon Bar.
The Sezz Saint-Tropez, a haven of happiness
Let your cares vanish as you relax in our Dom Perignon Bar, on a lounger by the pool, on a bench in the sumptuous hotel garden or in the privacy of your room. Without a doubt, your complete wellbeing and relaxation are our priorities, so book your stay at Hotel Sezz to enjoy an elegant and fulfilling getaway in the mythical town of St. Tropez.
~oOo~
Pictures copyright holder: Manuel Zublena
---
Sezz Saint-Tropez, a luxury 5 star design hotel at Saint Tropez
< return to posts