Saint Tropez has several thrilling
museums
where you can learn about the history and culture of the town, and which make for an interesting and rewarding interlude during your holiday or break. Exciting and unusual museums that are within easy reach of
Hotel Sezz Saint Tropez
include Musée de l'Annonciade, the new Maritime Museum in the XVIIth century Citadel, and Maison des Papillons.
Art and beauty - integral elements of the town at Musée de l'Annonciade
Musée de l'Annonciade is housed in a beautifully restored 16th century chapel and this exquisite art museum features an exceptional collection of modern art. Artists were attracted by the legendary Côte d'Azur light which leant their work an ethereal quality that could not be obtained elsewhere. You can see works by pointillist Paul Signac who bought a home in St. Tropez in1892, including St-Tropez, Le Quai (1899) and St-Tropez, Coucher de Soleil au Bois de Pins (1896). The self-titled 'Nabis' group of painters have their own room where you can see works by Vuillard, Bonnard and Maurice Denis, while the Fauvists are represented by Derain and Matisse, and the cubists by Picasso and Braque.
The Maritime Museum in the Citadel of Saint-Tropez
The 17th century Citadel of Saint-Tropez is one of the town's most visited historic sites, and this iconic hexagonal fortress was built between the years of 1602-8. The battlements offer magnificent views over the Bay of Saint Tropez, and the spacious vaulted basement is home to the Maritime Museum which opened in July 2013. Browse exhibits that celebrate the extensive maritime tradition of St. Tropez and discover famous figures as well as local men and women who have helped to make the town what it is today.
Butterflies at Maison des Papillons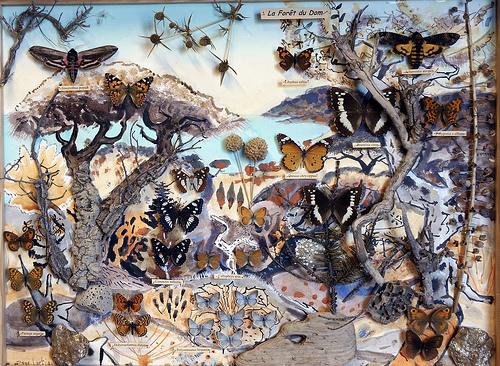 Butterfly plate at Maison des papillons - Saint-Tropez Tourisme - Photographer Jean-Louis Chaix Beautiful butterflies are displayed on vivid backgrounds that evoke their natural habitats at the wonderful Maison des Papillons in Saint-Tropez. The House of Butterflies was established by famous painter
Dany Lartige
in 1993 and is based in an enchanting antique house. The collection comprises over 4,500 species of butterfly, and each has been fully documented and classified.
Whether you're interested in art, history or the natural world, these exceptional museums in St. Tropez are certain to captivate and inspire.
******
•
Musée de l'Annonciade
: 2, rue de l'Annonciade, Place Grammont Tel: 00 33 4 94 17 84 10 Every day 10h to 13h and 14h to 18h except tuesday •
La citadelle de Saint-Tropez
(Saint Tropez citadel and maritim history museum): 1, montée de la citadelle Tel: 00 33 4 97 59 43 Variable timetable according to season. Visit tourist office •
Maison des papillons
(Butterfly centre) - Musée Dany Lartigue: 17, rue Etienne Berny Tel: 00 33 4 97 63 45 Variable timetable according to season. Visit tourist office
~oOo~
---
Featured picture copyright holder: Saint-Tropez Tourisme - Photographer Zoé de Saint-Tropez
< return to posts