Design Hotel Saint Tropez
is the epitome of classic good taste. The beautifully realised
Hotel Sezz
has been styled throughout with the flair that acclaimed designer Christophe Pillet is noted for, allowing you to enjoy a taste of luxury and splendour during your stay.
Design Hotel Saint Tropez - a magical combination of beauty and glamour
The glamorous Hotel Sezz Saint Tropez is the result of an inspired collaboration with top designer Christophe Pillet. His light touch and search for simplicity have made him the byword for elegance in contemporary design, and at Hotel Sezz he has helped to create a beautiful contemporary setting where the lack of barriers between the hotel and its clients gives a new meaning to the use of space.
Reviving the style influences of the fifties with his incomparable elegance, Christophe Pillet has succeeded in making Hotel Sezz a haven of tranquillity and light, where each piece of furniture has been carefully selected and signed by the designer. He has played with the natural curve of the 5 metre bay window in the elegant Cocoon rooms and Villas by keeping furnishings low and natural to enhance the concept of space.
Paved stone floors and cool dressed concrete walls add to the feeling of calm, and each room is equipped with the finest soft furnishings and amenities to increase the sensation of luxury and glamour.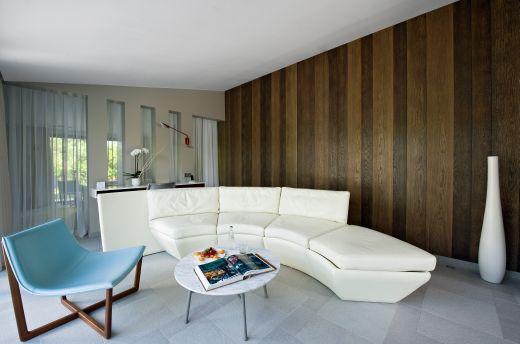 The magnificent Hotel Sezz - a top design hotel Saint Tropez
Hotel Sezz enjoys a wonderful location in Saint Tropez. Lounge by our fabulous heated pool, relax in your own private garden with outdoor shower, or sip a glass of champagne in our Dom Pérignon bar. Above all, enjoy the fine design of Christophe Pillet throughout our glorious 5 star boutique hotel where our friendly staff is always on hand to assist.
Christophe Pillet has worked with following brands for the Sezz Saint-Tropez:
Mazzega (Italy) : light and the famous Sezz lamps
Porro (Italy) : furniture
Fantini (Italy) : bathroom fittings manufacturer
Faïenceries de Charolles (France) : vases
Emu (Italy) : parasols
Samoa (Spain) : deck-chairs and tables
Varaschin (Italy) and Emeco (USA) : lounge chairs
Henryot Roitel (France) : lounge sofas
Eurolitex (France) : curtains, plaids
~oOo~
< return to posts