Just 300 metres from the Sezz Saint-Tropez, the fine stretch of sand that is Canebiers beach is the ideal place to watch the evening sun set over the marshes. The beach has a friendly, family atmosphere that's ideal for relaxation and you'll also find lots of water activities and a spectacular panoramic view.
Les Canebiers - a peaceful and idyllic beach
Canebiers (or Canoubiers) beach is a 200-metre stretch of sand at the heart of a sheltered bay on the route des Salins, 4 km from downtown Saint-Tropez. It's a delightful place for Tropezians as well as for tourists thanks to its combination of shady, pine tree sheltered areas, easy access and free parking along the road behind the beach.
It's very popular with families and Canebiers beach has the advantage of being monitored during the summer season. There is also a first aid station and free toilet facilities.
Some people believe that the beach owes its name to the canes that can be found on this site. Indeed, the origin of its name comes from the hemp (canebe in Provençal) that was once cultivated on the shore.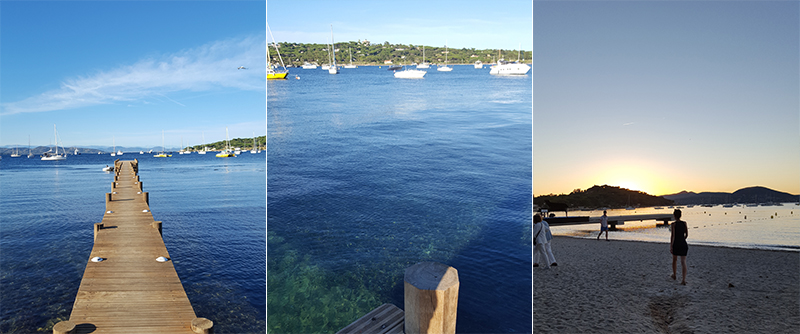 A beach to set sail from
Canebiers beach is also ideally exposed to the Mistral (North-West wind), a formidable asset for sailing. The Société Nautique de Saint-Tropez is based here (no other Mediterranean site is as well exposed); the club is affiliated to the French Federation of Sailing and is a recognised French School of Sailing. Take the opportunity to learn the sport or, if you're an advanced sailor, take advantage of the club's secure equipment hire system. Diving fans can join in the fun at the raft that's installed on the bay.
Finally, peaceful Les Canebiers beach was famously the setting for the 'Saint-Tropez' bar in the well-known television series, 'Sous le Soleil'. A beach that is pleasing in every way and it's just a few metres from the hotel – discover it with friends, as a family, or as a couple in love.
******
---
Sezz Saint Tropez, a 5 star luxury and design hotel in Saint Tropez
< return to posts