Best luxury hotels in Saint Tropez offer an idyllic end to a perfect summer. As the holiday season winds down, treat yourself to a stay at chic Hotel Sezz for 10% less from 8th to 26th September 2013, and luxuriate in the glorious St. Tropez Indian summer.
Best luxury hotels in Saint Tropez - a delightful conclusion to the summer season
From 8th to 26th September, you can enjoy a fantastic 10% discount when you book a stay of a minimum of 3 nights at the glamorous Hotel Sezz, St. Tropez. We will also welcome you with a cocktail, and include complimentary buffet breakfast with this exciting offer which can be booked between 23rd July and 7th September 2013.
St. Tropez was once a quiet fishing village on the French Riviera, and a favourite of late 19th century artists such as Paul Signac. By the mid 20th century, Pablo Picasso, Jean Paul Sartre and Juliette Greco had all discovered the attractions of this beautiful resort, and when Brigitte Bardot starred in 'And God Created Woman' St. Tropez swiftly rose to become the most famous fishing village in the world.
St. Tropez is a favourite with celebrities, the European aristocracy and a young, glamorous cosmopolitan crowd who adore the magnificent white sands of Pampelonne beach, the spectacular panoramic views of the coast, the luxury yachts in the marina and exceptional designer shopping, top entertainment and nightlife.
Now you can enjoy the very best time of year at Sezz Saint Tropez, one of the best luxury hotels in Saint Tropez , close to the centre of this thrilling resort. September is the Indian summer period in St. Tropez, when seasonal crowds have thinned and you can wander at your leisure, exploring the charming town and sensational beaches.
The Design Hotel Sezz, one of the Best luxury hotels in Saint Tropez
Hotel Sezz is an outstanding 5 star boutique hotel just 1km from the centre of St.Tropez and 5km from beautiful Pampelonne beach, and of course we provide a free shuttle service for guests, or can arrange a taxi or limo if required.
Our friendly multilingual staff will welcome you with pleasure, and act as your own personal assistants for the entirety your stay.
Designed throughout in impeccable contemporary style, Sezz Saint Tropez is a cool, elegant oasis where you can relax in superior surroundings. Each of our Villas and Cocoon rooms has its own private garden and outdoor shower, and is furnished thoughtfully and with flair.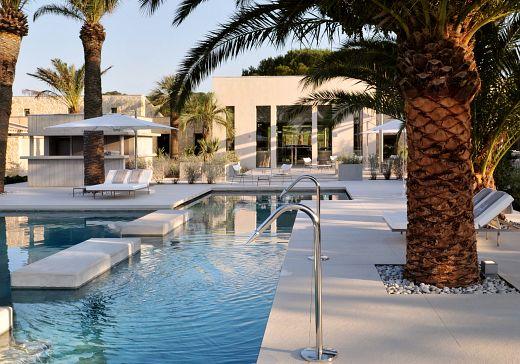 Relax by our heated pool, or enjoy a chilled glass of champagne in our unique Dom Pérignon bar between exploring the delights of St. Tropez with our special Indian summer offer.
< return to posts